Experienced Roofing Professionals
When you need an experienced roofer in Coppell, TX, you can always count on Alpha Exteriors and Construction. A family-owned roofing and exterior services company, we've been providing services to the area for more than 10 years. Our highly skilled roofing crews perform at a level well above industry standards regardless of whether they're repairing roof storm damage, installing a new asphalt shingle roof, or adding TPO roofing to a commercial building. We back up all our services with a 5-year workmanship warranty. Set up services and get a free roof inspection by calling 214-444-8209.
Quality Services We Provide
Roof Inspection Experts
To get a roofing project off the ground, it's essential to start with a roof inspection. We provide free roof inspections for everything from roof repairs and replacement to regular maintenance and filing your insurance claims. Our inspections are thorough and our experienced professionals can identify any damage on your roof and make appropriate recommendations for repairs. Set up your initial free inspection today by calling 214-444-8209.
Our Process
Comprehensive Property Inspection

We provide a complete and comprehensive insurance grade inspection of your property.

File A Claim

In the event we find damage, and it warrants a full replacement, we advise our clients and assist with filing a claim to their homeowners insurance.

Insurance Inspection

We meet with and assist your insurance adjuster to ensure all damages are properly documented in the insurance report.

Home Restoration

Once the scope of work is finalized, we will begin restoring your property back to pre-storm condition. The only expense if your deductible.

Post Project Inspection

After all work has been completed, we will perform a comprehensive property walkthrough to ensure 100% satisfaction.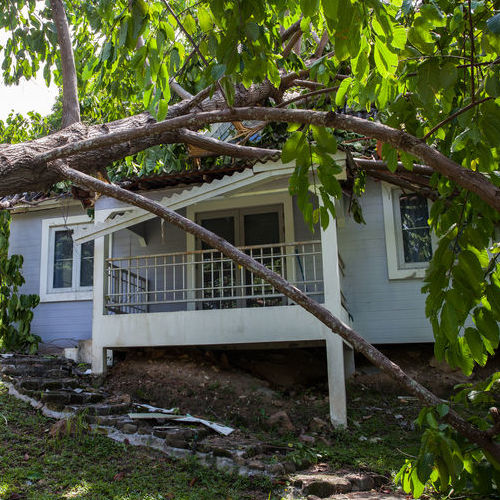 Emergency Roof Repair
Roofing emergencies can happen at any time. That's why Alpha Exteriors and Construction serves its customers 24/7 for emergency roof repair. So, if you need a roofer in Coppell, TX for repairs after a hail storm or other unexpected event. We'll get to you as soon as possible to make the necessary repairs. We can also make temporary repairs like tarping roofs if conditions warrant. For immediate assistance give us a call at 214-444-8209.
Flat Roof Leak Detection
Leaks are a major problem with flat roofs. They can be tricky. That's because the leak and its source are usually far away from each other. If you have a leak or think you might, our crews have the skills and equipment to detect and repair the leaks.
You want to get leaks taken care of as soon as possible. If left unchecked, leaks can lead to worse problems ranging from rot and mold growth to rust on metal roofs. And that can lead to costly repairs or even premature replacement.
With professional flat roof leak detection services, you'll be saving money and keeping your roof safe, secure and performing at optimum levels. It's easy to get help from the team at Alpha Exteriors and Construction. All you have to do is call 214-444-8209 and set up an appointment. We'll get your roofing project off the ground.