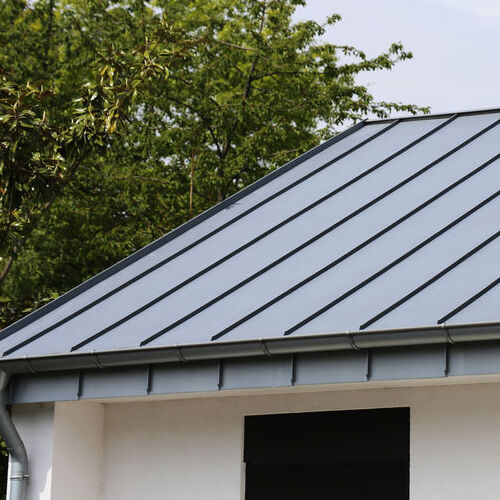 Metal Roofing Professionals
Homeowners choose metal roofing for its durability and longevity–they last 50 years or more. Standing seam metal roofing gives you all the durability, along with plenty of color choices as well as a variety of thicknesses, lengths and widths. You'll also get first-rate standing seam metal roof installation in Coppell, TX when you choose Alpha Exteriors and Construction. Get your roofing project started by calling 214-444-8209.
Benefits of Standing Seam Metal Roof Installation
Among the most common types of standing seam metal roof installation used in residential roofing is snap lock. Like most standing seam roofs, the snap-together fasteners of snap-lock roofing are hidden under the seams, which helps prevent damage from wear and tear.
With snap lock roofing you'll see fewer problems with rusting and leaks or with panels coming loose. This will save you money on roof repair. If you do need standing seam metal roof repair, you can count on the team at Alpha Exteriors and Construction for exceptional service every time.
If it is time to replace your roof, we are also the team to count on for standing seam metal roof replacement in Coppell, TX. When you're replacing your old roof with standing seam metal, you'll have a wide variety of choices in the type of metal you can use ranging from aluminum to galvanized steel to copper. You'll also have plenty of choices with color, thickness, length, and width of the panels.
With all our services, we provide a 5-year workmanship warranty.
Schedule Us Today
With standing seam metal roof installation in Coppell, TX you'll get plenty of choices in styles, colors and metals. Moreover, with Alpha Exteriors and Construction, you'll get a talented and experienced roofing crew who'll do a first-rate job putting up your new roof. Start your next roofing project by calling 214-444-8209.