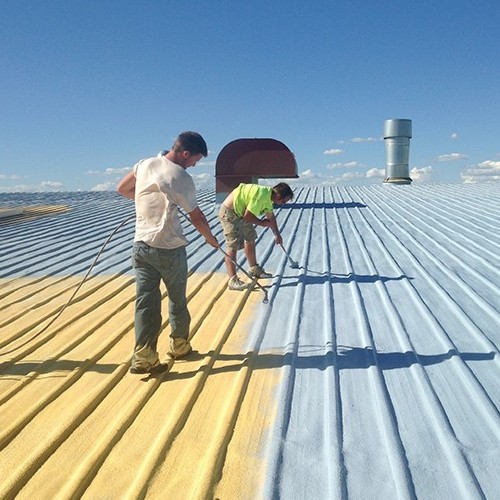 Affordable Commercial Roofing
Leaks and ponding might sound like minor issues when it comes to your business's roof. But, if you neglect these minor repairs, it could lead to more damage and expenses, even roof replacement. One cost-effective option to consider when addressing these repairs is a roof restoration using a commercial roof coating. Such coatings will seal leaks and protect your roof from weathering.
Alpha Exteriors and Construction offers its customers several coating options at affordable prices. Learn more about commercial roof coatings in Coppell, TX by giving our team a call at 214-444-8209.
Types of Commercial Roof Coating
With a commercial roof coating application in Coppell, TX you'll protect your roof from leaks and add years to its lifespan. As with all of Alpha Exteriors and Construction's services, we back our roof coating applications with a 5-year workmanship warranty. Here are the most common types of roof coatings:
Flat roof coating: When your flat roof develops leaks or you see water ponding on it, a flat roof coating is your best option to protect your roof. Our roofing professionals apply coating directly to your roof. There's no need for tear-off. And once the coating ends its lifespan in about 10 years, there's no need to worry. We apply a new coating over the old coating.
Metal roof coating: These coatings seal leaks and protect your metal roof from rust and other damage.
As a bonus, all coatings reflect UV radiation. This reduces heat absorption, improving your building's energy efficiency. You'll save money on utility costs as well as on repair and replacement costs.
Let's Get Started
Whatever your commercial roof coating needs in Coppell, TX, Alpha Exteriors and Construction offers several roofing solutions to its customers. When you choose us as your roofing contractor, you can rest assured we'll complete your project at a level above industry standards. Let's get started today by calling 214-444-8209.