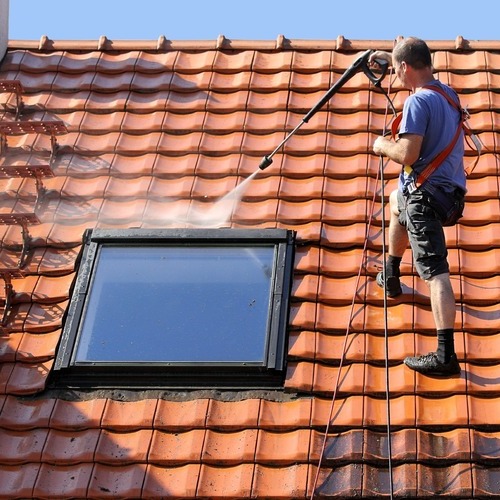 Roof Cleaning
Everything is big in Texas as they say, which includes a business' image. So, when you own a business here, you want your appearance to be the image your clients recognize. And that is why commercial roof washing is so important here in the DFW area, especially if your business structure is a single story! But even for a sky-rise structure, commercial roof washing is important, not for the visual aspect, but for other reasons. Find out more about how Alpha Exteriors and Construction can help with your commercial roofing needs, give us a call at 214-444-8209.
Why is commercial roof washing important?
The roof of your business is the first line of defense against mother nature and the climate, and here in Texas, that climate changes by the minute some days! With that in mind though, it is important to realize the exposure and stress that the roof endures every day. With a regularly inspected and maintained commercial roof, washing is one of the most important things you can have done for several reasons:
1: Performance Improvement
To get the most out of the energy efficiency and lifespan of a commercial roof, washing it on a regular basis will keep the surface temperature lower, a big plus during Texas summers. This keeps the building interior cooler too, and this all helps ease the workload on the HVAC system too, which helps keep the utility bills down.  
2: Moisture Removed
Moisture is the number one enemy of the roof and regular commercial roof washing will keep the roof clean of debris like fallen leaves, limbs, and other materials that stick to the roof and hold moisture in.  This minimizes and even eliminates the possibility of roof membrane blistering, ponding, and splitting, which lessens the chance of roof leaks.  
3: Fire Hazards Minimized
A commercial structure that stores or manufactures combustible materials is an automatic fire hazard.  With regular commercial roof washing, the roof surface is clean and this minimizes the potential of being a fuel source.
4: Roof Damage Revealed
The usual inspection prior to a commercial roof washing allows you to discover any possible roof issues that can become an expensive, massive roof repair or replacement. 
5: Keeping Building Code Current
For any structure that contains a food-related business, commercial roof washing will help keep the structure within the building code standards.
7: A Clean Roof Equals A Great Appearance
First impressions are the cornerstone for any business and with a commercial roof washing, your business will have a 'ready to do business' appearance for your clients and potential clients, as well as vendors and visitors.
What do professionals use for commercial roof washing?
After they have swept the roofing surface free of any loose debris and dirt, most professional commercial roof washing services use a combination of sodium hypochlorite, aka chlorine bleach, sodium hydroxide, and TSP (trisodium phosphate). This combination is sprayed on after wetting the roof with clear water, and then using a push brush, they'll cover the entire surface.  Once that has been completed, they will rinse the roof with clear water. 
Another method used that is chemical-free and the first choice for many commercial structure owners is done with the same process as described above. This process typically costs more because the chemical-free products aren't as strong, so the process takes longer to remove all the algae, lichen, and moss.
Is power washing a commercial roof safe and worth it?
Any experienced commercial roof-washing contractor knows when to use power-washing methods and when not to use that method. While power washing is the fastest way to blast the algae, lichen, and moss off of a roof, when it isn't done correctly, it can cause more damage than it is worthwhile.
Should a rinse be done after a commercial roof washing?
As we described in the process typically used for commercial roof washing, yes, a rinse is included. After the wash and rinse steps, the contractor will do another inspection of the roof to check for any possible damage they caused as well as any pre-existing damage exposed after the wash.
What is the difference between pressure wash and power wash?
The key difference between the two is temperature. Power washing is done with highly pressurized steam and pressure washing is using the power of the water. If not done correctly, either can damage a roofing surface.
Looking Your Best
As a business, you want your services and products to look their best. That should carry on to the outward appearance of your business structure too, including the roof. A commercial roof washing, along with the roof inspection, can go a long way in making that first impression as well as follow-up impressions of your potential and existing clients and visitors. This includes when those surprise building code inspections and insurance inspections occur, especially if you operate a franchise of a corporate business.