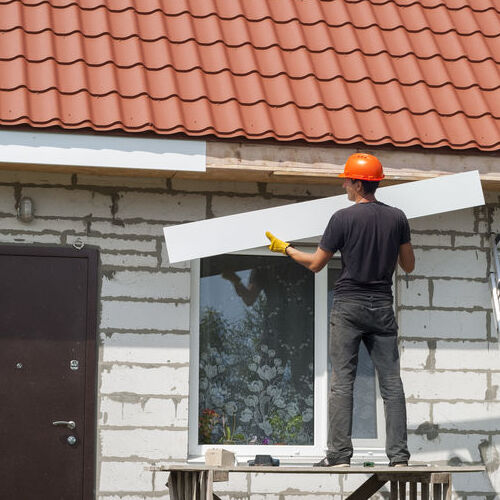 Protecting Your Home
Soffit and fascia are essential parts of your roof that protect your home and help with ventilation and drainage. Any breakdown could result in costlier repairs due to water damage or damage from pests or other problems. To learn more about soffit and fascia repair in Coppell, TX or replacement and installation, call Alpha Exteriors and Construction at 214-444-8209.
Our Soffit and Fascia Repair Service
Soffit and fascia work together to help with drainage and ventilation. Soffit is vented so heat can pass out of your attic. Fascia are the boards that your gutters attach to.
Soffit and fascia shouldn't go without repair when they are damaged. When they are loose, rotted or otherwise displaced and damaged it could lead to more problems like leaks. When you need expert soffit and fascia repair in Coppell, TX, make sure to contact us. We'll perform the repair above industry standards and back the repair up with a 5-year workmanship warranty.
Soffit and fascia repairs also help prevent rodents, birds and other pests from nesting inside your home. Animals can cause serious damage by digging and chewing up your roofing material.
Without fascia in good repair, your gutters aren't going to drain water away from your house. That water can erode soil next to your house and cause problems with the foundation as well as basements. Soffit and fascia installation on roofs are essential to protect your home from rain drainage and for ventilation.
If your soffit and fascia have become loose or rotted beyond repair, you can rely on us for soffit and fascia replacement.
Schedule Us Today
With soffit and fascia repair in Coppell, TX or replacement and installation services from Alpha Exteriors and Construction, you'll be protecting your home for years to come. Call us at 214-444-8209 and schedule us today.