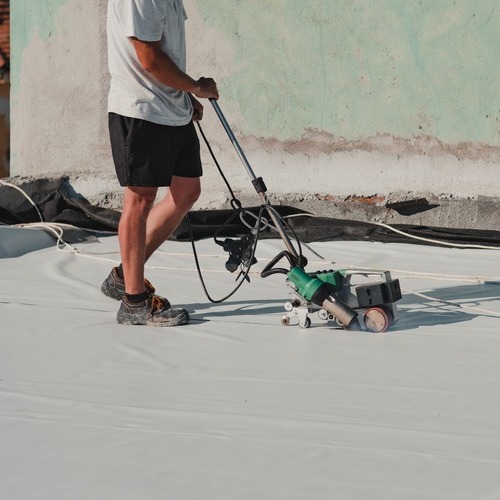 Flat Roofing Experts
Among the most common types of roofing used on commercial roofs are flat roofs. Whether you need a new roof or repairs on your current roof, you can rely on Alpha Exteriors and Construction for our expertise in flat roofing in Coppell, TX and surrounding cities.
We offer a comprehensive range of roofing solutions from built-up roofing, or BUR, to modified bitumen, as well as single-ply roofing solutions such as EPDM and TPO. To get a free estimate or schedule services, give us a call at 214-444-8209.
Our Service Offerings
When you choose Alpha Exteriors and Construction for flat roofing in Coppell, TX, you get a roofing contractor with more than 10 years of experience. For all our projects, you can rest assured our services will meet or beat industry standards. We back up our workmanship with a 5-year warranty. On all our roofing projects we begin with a free roof inspection. We can then recommend roof repair or replacement. One of our flat roof repair specialties is leak detection. We also provide roof coating services.
Types of Flat Roofs
When it comes to flat roof replacement or repair, we can work with any sort of material. Here are some of the most common roofs found on commercial properties:
Built-up roofing or BUR: These roofs consist of alternating layers of hot tar and roofing membrane and then ballasted with gravel or stone. BUR roofs are low-cost and durable.
Modified bitumen: This is a two-ply system combining asphalt with either a plastic or rubber membrane. These roofs are virtually seamless, which protects them from leaking.
EPDM and TPO: These rubber roofing systems are valued for their puncture and tear resistance and TPO is highly valued for its advanced reflectivity.
Call Us Today
Whether you need repairs or a new flat roof installed, count on our experts for flat roofing in Coppell, TX. Call us today to schedule service at 214-444-8209.