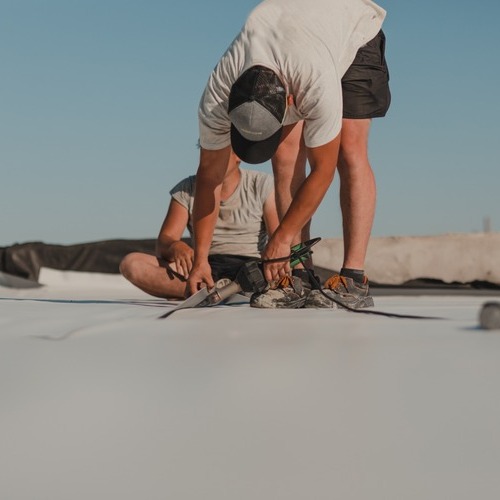 Full-Service Commercial Roofer
When you need a full-service commercial roofer in Coppell, TX, and surrounding areas, Alpha Exteriors and Construction is your reliable and experienced choice. From apartment complexes to hospitals, churches, shopping centers, and everything else, we'll find a roofing solution that meets your needs.
Have a low-sloped roof? We offer everything from traditional built-up roofs to EPDM and TPO. Need repairs? Our team will get your repairs done fast and effectively. Learn more about what we can provide you as a commercial roofing company by calling 214-444-8209.
Our Service Offerings
As a full-service commercial roofer in Coppell, TX, Alpha Exteriors and Construction reaches a wide base throughout North Texas, working in many commercial spaces.
Here are a few commercial areas and industries we serve:
Apartment Complexes & Multi-Family
Agricultural Buildings Roofing
Hospitals & Healthcare Roofing
Church Roofing Replacement
Shopping Centers & Office Building Roofing Contractor
Our range of services includes commercial roof repair and replacement for a wide array of roofing systems. We also offer flat roof and metal roof coating restoration services. We use top-quality materials paired with the highest level of craftsmanship well above industry standards.
The roofing systems we work with include:
Built-up roofing: Known as BUR or tar and gravel roofing, these roofs provide strong protection against damaging UV rays, water and bad weather.
Cool roofing: Reflective roofing systems help with heat transfer and improve energy efficiency.
Modified bitumen roofing: Businesses like these roofs because the seamless build helps prevent leaks.
TPO and EPDM roofing: These single-ply roofing membrane systems are durable and energy efficient.
No matter what type of roofing system you have, with all our services we offer a 5-year workmanship warranty.
What is the meaning of commercial roofing?
Commercial roofing means providing roofing services for commercial properties including offices, warehouses and other commercial structures. This can also include roofing for multifamily residences like apartment communities as well as properties like churches or similar structures.
What is the most common commercial roof style?
Single-ply roofing membranes like EPDM and TPO are the most common commercial roofing materials in use today. These materials are especially used on flat roofs. These roofs are durable. The material reflects the sun's heat and improves energy efficiency.
What is the best type of commercial roof?
Generally, the best type of roof for your commercial structure will depend on your facility. Given a large portion of commercial structures have flat roofs, materials like TPO or PVC are often preferred. These materials weather well, especially resisting the sun's heat, and aren't easily damaged. They are also valued, especially in warmer areas, for their reflective properties. They aid in heat transfer and improve energy efficiency.
Call for Services Today
As a commercial roofer in Coppell, TX, we've built our reputation on fast, reliable, professional service. Give us a call at 214-444-8209 to set up an appointment today.