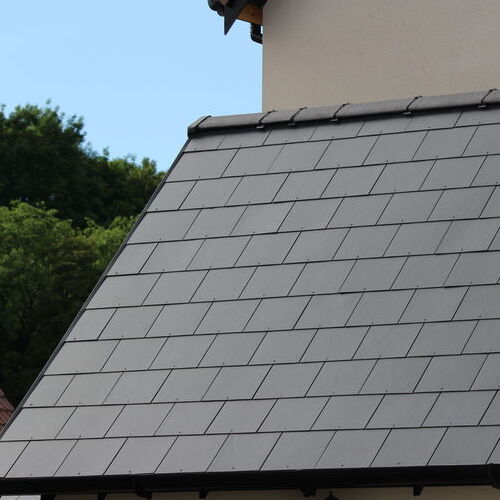 Tile Roofing Experts
When it comes to beauty and durability few types of roofing systems can match slate roofs. A well-maintained slate roof can last more than a century. Want to know more about slate roofing in Coppell, TX?
Alpha Exteriors and Construction has the expertise and experience to help you with all your tile roofing needs. Find out how we can help you or schedule a service appointment by calling 214-444-8209.
Our Slate Roofing Services
If you're looking to install, replace or repair slate roofing in Coppell, TX, you need to look no further than Alpha Exteriors and Construction. Our roofing professionals are some of the most skilled available in the area. We perform our services at or above industry standards. And, we back our services up with a 5-year workmanship warranty.
Why would you choose slate roofing? Here are some advantages to installing a slate roof:
Aesthetic appeal: Slate is one of the most attractive roofing materials. It will definitely add to your home's curb appeal.
Durability and longevity: These roofs are weather-resistant. They hold up against severe weather like hail and high winds. They also last anywhere from 80 to 100 years.
Fire-resistance: The material is naturally fire-resistant.
Slate Roof Repair or Replacement
When our talented team provides slate roof repair, they have several repair options at hand. They can work with natural slate as well as high-quality synthetic slate materials from leading manufacturers.
You can also expect high-quality performance for slate roof replacement. We'll inspect your roof for free and make our recommendations for replacement. We can advise you, for instance, about whether your roof can support the weight of a slate roof.
Set Up Services Today
Looking to learn more about slate roofing in Coppell, TX? Alpha Exteriors and Construction's slate roofing specialists are the team to rely on. Set up a service appointment with them by calling 214-444-8209.