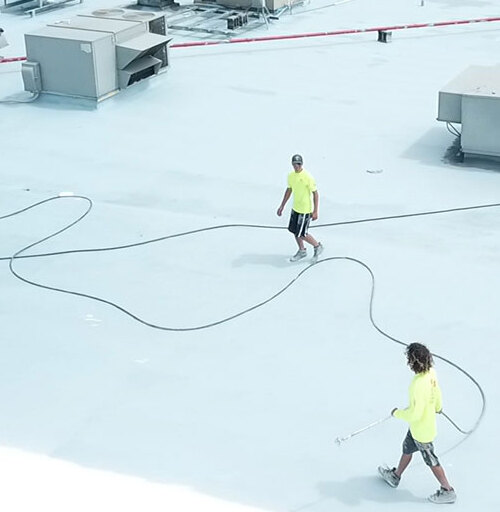 Top-Quality Materials
When you choose roof restoration, you can rely on Alpha Exteriors and Construction to use top-quality materials. We offer an extensive range of roof coatings to fit your needs, including acrylic roof coatings in Coppell, TX. Acrylics provide great protection from direct sunlight and serve as a great waterproofing agent. Find out what we can do for you by calling 214-444-8209.
Benefits of Acrylic Roof Coating
When you get an acrylic coating application in Coppell, TX, you'll get a durable protective coating valued for its effectiveness against the damages caused by regular exposure to sunlight. These coatings are often used as an alternative to roof replacement. When they are applied, there is no need for roof tear-off. Instead, the coatings are directly applied on the roof.
Here are other benefits of these coatings:
Improves energy efficiency: Reflective coating helps with your roof's energy efficiency. You'll notice a marked improvement in savings on your energy bills.
Seals leaks: Coatings adhere seamlessly to a variety of roofing systems. This gives your roof a protective stick-proof shell that protects your roof from leaks as well as dirt and debris.
Easy installation: Coatings go on quickly. As a waterborne material, they are as easy as paint to apply and are often rolled or even brushed on. Such ease of application saves time and money.
An acrylic coating will last anywhere from 10 to 15 years before it needs reapplication. You can also count on us for exceptional service. We back all services up with a 5-year workmanship warranty.
Call Us Today
We are always ready to help you extend your roof's life. You can do both with an acrylic roof coating in Coppell, TX. Call the experts at 214-444-8209 for superior roof restoration using acrylic roof coatings. We serve an extensive portion of North Texas.