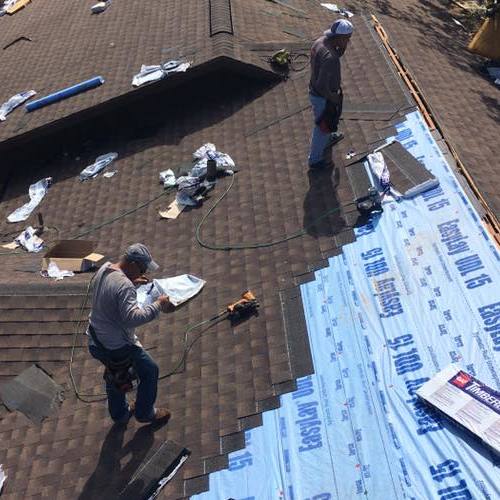 Roof Replacement
Like anywhere else, homeowners do not want the expense of having a roof replacement in Coppell, TX. While it may be an investment in your home, if it isn't covered by insurance, it is an expense we can't afford upfront.  So, just how much does a roof cost?
There isn't just a flat rate across the board when it comes to anything to do with your home, especially the roof. There are several factors combined that will determine the cost of a roof replacement, starting with the square footage of the roof. Other factors include:
The type of roofing material used.
The decking and roofing felt below the roofing material.
Any repairs needed during the roof replacement.
If you're needing a new roof, look to the professionals at Alpha Exteriors and Construction. Set up a time for a free inspection by calling 214-444-8209.
What is the least expensive material for a roof replacement?
For the budget-minded homeowner, this is the first question, and with good reason. There are multitudes of roofing materials available, but logic tells you that going with the cheapest may not be the best idea. In addition to saving money upfront, you want to choose something that is going to last beyond the first hailstorm, right? After all, you don't want to pay for another roof replacement for a long, long time!
If you drive the streets of Coppell, TX, or any city in America, you'll notice that asphalt shingles are the most common roofing material. Why? Because it is an affordable material and is still durable. But within the category of asphalt shingles, there are three choices to make your roof replacement: 
Three-Tab: This is installed in a single layer without any overlap and has a lifespan of up to 15 years and typically holds up well under wind speeds of up to 60 miles per hour.
Architectural: These asphalt shingles are installed with some overlap, providing a home with a slight dimensional look that can last up to 30 years and withstands wind speeds up to 120 miles per hour.
Luxury: These are the most expensive asphalt shingles with a lifespan of up to 50 years, withstanding all types of weather better and longer, and they are more fire resistant. This is the top-of-the-line in asphalt shingles and you won't be looking at another roof replacement probably for the rest of your time in that house.
How often does a roof need to be replaced?
As you can see by the lifespan of the three different asphalt shingles, you may need a roof replacement in 15 years (or less) or you may not need another roof replacement for 50 years. The average time most asphalt shingle roofs in Texas need to be replaced is between 12 and 15 years.
What is the best roof for your money?
Metal roof replacement is said to be the best for the money by most roofing contractors. It is more expensive than asphalt shingles, including the architectural or luxury shingles we described above. Going with a corrugated metal roof replacement doesn't mean your home will look like Grandpa's old barn either!
The metal used for roofing homes in Texas today comes in a wide choice of colors so that you can match your home's architectural style. It has a lifespan on average of 50 years, but some have lasted 75 years or longer. It is installed in flexible sheets, available in different thicknesses, getting heavier with each increase in thickness. Other advantages of a metal roof replacement include: 
Strength: A metal roof replacement can withstand winds up to 150 miles per hour and provide better protection in a lightning strike.
Insect Resistance: A metal roof replacement is insect resistant, including termites.
Energy Efficient: With a proper ceramic coating, a metal roof will keep your home cooler in the summer and warmer in the winter.
Recyclable: The metal used for a roof replacement typically is made from recycled metals and can be recycled again with the next roof replacement.
What type of roof is the most cost-effective?
Again, metal wins! This is your most cost-effective choice for a roof replacement because of the extreme durability it provides. Even though it has a higher cost for installation, it will last two to three times longer than the best asphalt shingle.
In Closing
So, when you're faced with needing a roof replacement, or you're just trying to stay ahead, is a roof replacement a good investment? Yes, absolutely! The roof is the first line of defense against the climate and environment and is protecting your family.
A roof replacement in Coppell, TX will make your home more appealing on the real estate market too. If you are planning to sell your home, new buyers are always looking for a home with the most expensive work done already, and a roof replacement is at the top of that list! You'll have a better chance of getting your asking price with a new roof than if you use that as a bargaining chip with price negotiation. When you need a new roof, set up an appointment for a free roof inspection today at 214-444-8209.